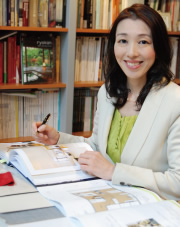 Kiyomi Chiba | Interior Designer
Kiyomi Chiba, founder of Muse Decor, previously worked in finance in Tokyo before she became an interior designer. She has also lived and studied in London, UK, where she earned a BTEC Diploma from Chelsea College of Art & Design.
She initially started her career in Japan working as a designer for a major residential housing and construction company,and then moved on to a small boutique interior design firm that catered to high-end Japanese and foreign clientele.
Later, she became Chief Interior Designer for ILLUMS Scandinavian Interior Culture in Japan, a concept retailer for homewares and Scandinavian-designed goods. When she worked with ILLUMS she collaborated on projects with major real estate developers and worked on a variety of projects from commercial and hospitality, to residential properties.
In 2007 she started her freelance atelier in Tokyo. Kiyomi is an extensive traveler who brings to her clients a comprehensive knowledge of design and lifestyle trends from all over the world.